Guillame Appollinaire quote
We love this quote by Guillame Appollinaire, a poet with a fascinating life: "Now and then it's good to pause in our pursuit of happiness and just be happy." What a wonderful reminder to everyone that happiness doesn't have to be hard work! Now tell us in the comments: what strategies do you use to slow down, and remind yourself to just be happy?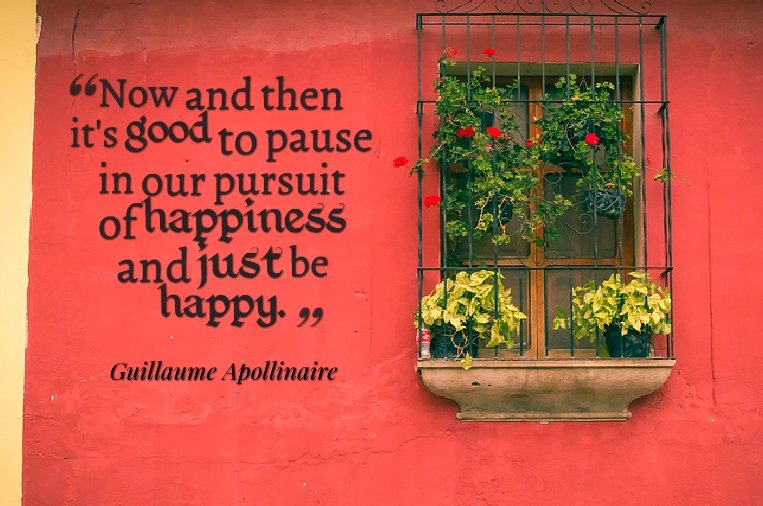 Difficulty in finding happiness
This is a quote from the attached article from Psychology Today, which shares why some people seem to find it harder to be happy than others. This is a must read if you think you find it more difficult to achieve happiness than other people.
Source: http://www.psychologytoday.com/articles/200910/opening-happiness
Gratitude and Happiness
"… our problem is that we don't know what happiness is. We confuse it with a life uncluttered by feelings of anxiety, rage, doubt, and sadness. But happiness is something entirely different. It's the ability to receive the pleasant without grasping and the unpleasant without condemning."
Do you want more happiness in your life? This monk and scholar says that happiness is born from gratitude, and the key to happiness is grateful living: being grateful for this moment that you've been given. After all, "if we didn't have this present moment, we wouldn't have any opportunity to do anything or experience anything."
If you have about 14 minutes, we invite you to watch this wonderful TED Talk, and then share with us in the comments how you practice gratitude and grateful living.
Source: http://www.ted.com/talks/david_steindl_rast_want_to_be_happy_be_grateful
Searching for Happiness
Whoa! We are getting a little existential today with this quote from Albert Camus: "You will never be happy if you continue to search for what happiness consists of.  You will never live if you are looking for the meaning of life." Tell us, what is your favorite happiness quote, and why do you love it so much?
What Unites Us
What unites us is stronger than what divides us: that is the message in this video about Happiness Without Borders, a project by Coca-Cola that brings together people in Lahore, Pakistan, and New Delhi, India, the capitals of the two countries at the center of one of the world's most worrisome geopolitical conflicts. We dare you to watch this without at least cracking a smile.
(We may have shed a wee tear watching it, and we're not embarrassed to admit it).
Proverbs
Many cultures around the world have proverbs about happiness. Here are five of our favorite happiness proverbs from different cultures:
"If you want happiness for a lifetime; help someone else." (Chinese Proverb)
"Man gains no happiness without labor." (Greek Proverb)
"No one is happier than he who believes in his happiness." (German Proverb)
"Happiness is to hold flowers in both hands." (Japanese Proverb)
"Happy is he who knows his follies in youth." (Danish Proverb)
What did we miss?
Happy as a clam
Have you ever wondered about the meaning or origin of the English saying, "as happy as a clam?" Apparently, this has been a common saying in the United States since the 1840s. The saying we use today is actually a shortened version of the original: "as happy as a clam at high water." This makes a little more sense, as high tide is the time when clams are safe from predators. Now tell us: what makes you as happy as a clam?
Source: http://www.phrases.org.uk/meanings/as-happy-as-a-clam.html
More Links
"Happiness & health" – Sara Rimer, Harvard School of Public Health
"Regrets of the Dying" – Bronnie Ware, Inspiration and Chai
 "A Dose of Gratitude: How Being Thankful Can Keep You Healthy" – Robin Madell, HealthLine
"Boost Your Health With a Dose of Gratitude" – Elizabeth Heubeck, WebMD
"A change of heart: cardiovascular correlates of forgiveness in response to interpersonal conflict." – Journal of Behavioral Medicine study 
"Stress symptoms: Effects on your body and behavior" – Mayo Clinic
"Stress Management: Chronic stress puts your health at risk" – Mayo Clinic
"Stress Management: Exercise and stress: Get moving to manage stress" – Mayo Clinic
"Best Benefit of Exercise? Happiness" – Fox News: 
"Eat Your Way to Health and Happiness" – Health
"What to Eat to Feel Happier" – Deborah Kotz, U.S. News
"How Meditation Can Make You Feel Happier" – Mary Jacksh, Goodlife Zen